Boats: The story of Billy Lee Telliot and the "Bay Blaster" Shootout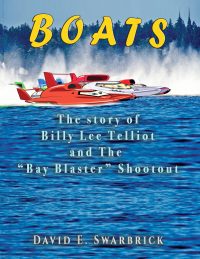 Buckle up Motorsports fans! Put on your life preservers, raise your anchors, and hop inside this book! Now Behold! Known as one of the toughest and most exciting races in the Fast Boat Series: The "Bay Blaster" Shootout is about to begin! Packed with tight turns, lightning-fast straightaways, enormous rocks, and waterfalls, the event brings some of the greatest excitement throughout the land and seas in boating.
The competition can bring down the toughest of ships and raise some to amazing heights. Crafts must prepare and work hard with their coaches to be ready for the event. When the gate drops and the fuel pumps pulse, there's no turning back from the challenge to take the checkered flag. Once committed, the quick-paced fun begins, and the boats head out on an exhilarating run that pushes them to their best, teaches them sportsmanship, and entertains fans everywhere, of all ages. So, swab those decks Me Mateys, climb aboard, and let the festivities commence! Dive in, set your sails, and read along! Because, we're embarking on one wet and wild, water slinging ride! One that you surely don't want to miss! Arrh! Enjoy…

Updating...