Ava and Alan Macaw: Help Protect the African Wild Dog Den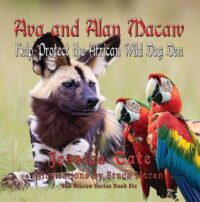 On a mission to find new friends one day, Ava and Alan soar over the African Grasslands. Below they saw a curious creature. It had spots like a leopard but the body of a dog. Ava and Alan fly down and meet this curious creature. In getting to know Danny, the African Wild Dog, they find out that his species is in danger from lions in the area. This takes Ava and Alan on a feather raising adventure while they try to protect the African Wild Dog pups.
Jessica Tate received her degree in English at NWCCD – Gillette Campus in Wyoming where she was the Editor-in-chief of the campus newspaper. She has received multiple awards for her articles and has edited several best-selling books. She began Editing and Advertising at TotalRecall Publications in 2011 and has narrated over 20 children's books. Now, she continues to help authors with promotion, marketing, and advertising for their books through her role as Creative Director. The Magical Macaw books are her first foray into writing children's books.

Updating...