Ava and Alan Macaw: Help the Lilac Breasted Roller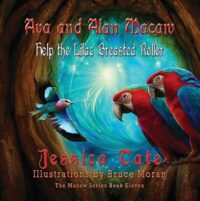 Ava and Alan decide one day to check out the magical portal in the tree to see if they can meet a new friend or help someone. They go through and see a curious site of a small colorful bird flying back and forth and rolling through the air. They meet Lily the lilac breasted roller and find out she is trying to protect her nest from predators while her mate is away hunting for food. Ava and Alan learn how to help her and protect her nest. Follow Ava and Alan on this exciting adventure.
Jessica Tate received her degree in English at NWCCD – Gillette Campus in Wyoming where she was the Editor-in-chief of the campus newspaper. She has received multiple awards for her articles and has edited several best-selling books. She began Editing and Advertising at TotalRecall Publications in 2011 and has narrated over 20 children's books. Now, she continues to help authors with promotion, marketing, and advertising for their books through her role as Creative Director. The Magical Macaw books are her first foray into writing children's books.

Updating...